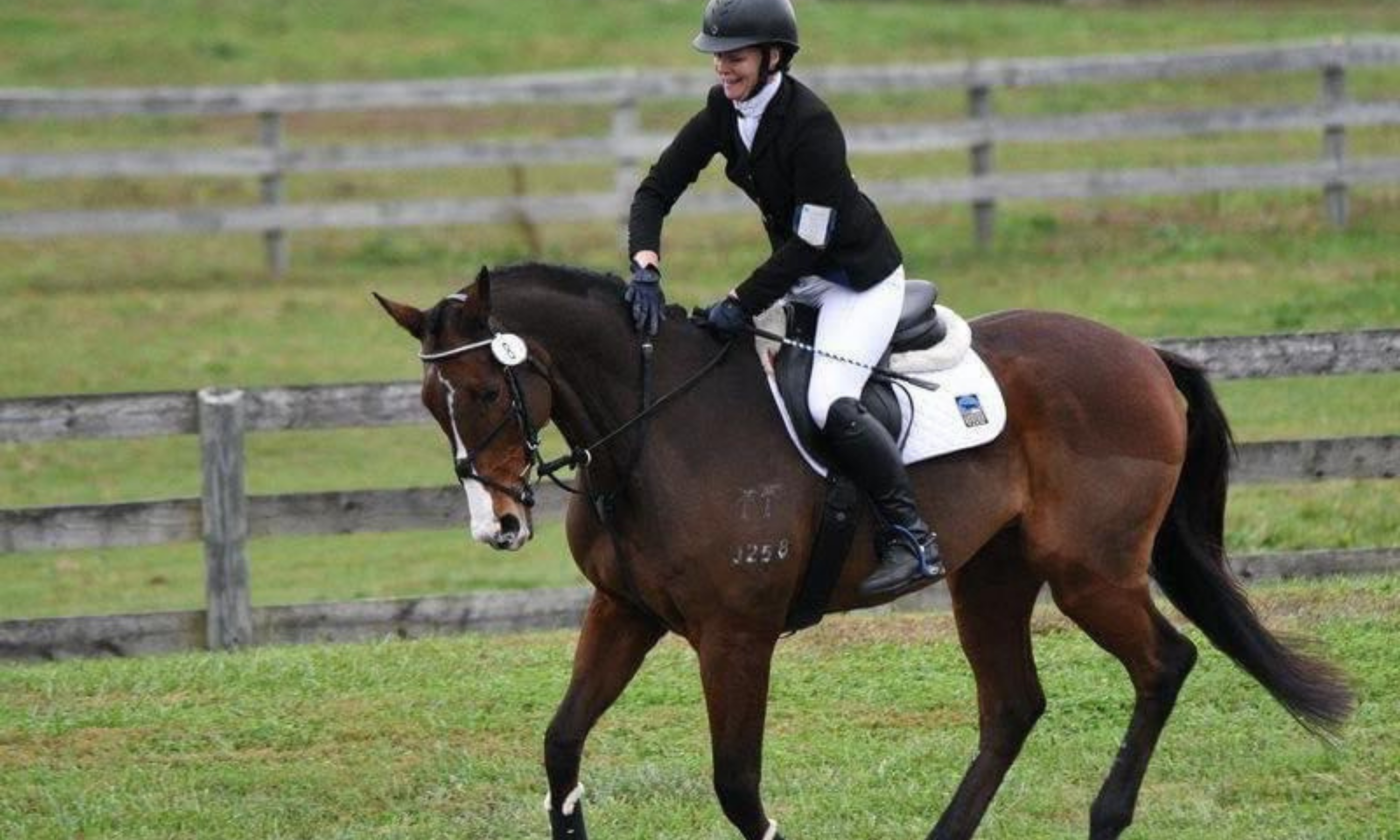 To honor the lives of Devyn Merritt Anderson and Jessica Halliday who both lost their courageous battles with cancer in late 2021 Area I has established an annual "Living Courageously" Sportsmanship Award. Both Anderson and Halliday were active Adult Rider Program (ARP) members in Area I. They continued to support their riding friends and family no matter what life threw at them and could often be found cheering others on with a smile.
The inaugural award was presented to Katy Raynor DVM during the virtual USEA Area I Annual Meeting held January 26-27, 2022. Several Area I members submitted Raynor's name for consideration for the award after Raynor combatted an immense amount of adversity throughout 2021 and early 2022.
"When I think about what person exemplifies the qualities and characteristics needed for the new annual "Living Courageously" Sportsmanship Award, there is no other person that comes to mind than Dr. Katy Raynor DVM. She checks all the boxes, and then some," commented Area I member Audrey McBride.
"Katy has always been a fierce, determined spirit," added Jocelyn Hawe. "She has worked incredibly hard for everything she has achieved. Even very early on in our friendship, I marveled at her grit and resilience. She has shown me over and over again what it looks like to be tough yet still kind and compassionate. Katy is an inspiration, showing me not just the kind of horsewoman I want to be, but the kind of human I want to be."
Raynor lost much of her 2021 season after opting to donate one of her kidneys to her brother, but despite the grueling preparation for the operation and the challenging recovery, Raynor never lost her enthusiastic spirit and was always there to support her friends. Raynor often packed up her dog and her 4-year-old daughter to attend lessons and events to cheer on her friends in any way possible and could often be seen holding a volunteer position when she was unable to compete herself.
"I have learned that recovering from a kidney donation is a rather miserable, painful process and requires life-long sacrifices," shared Jen Lingeman. "It took Katy out of the competition ring for most of the season, but that didn't stop her from supporting her friends. Despite feeling pretty cruddy, she would still show up at the barn to sit in the peanut gallery and watch your jump lesson, taking videos for you and texting you later to tell you how you really nailed it. She still showed up at competitions to volunteer and cheer her friends on. Standing ringside, holding everyone's water bottles, and with a smile and positive attitude and a 'you got this.'"
Following her procedure, Raynor lost her father in 2021. Hawe reflected, " He was a man who touched the lives of everyone he met- people were better for knowing him. This quality is so apparent in Katy as well. She dealt with the loss with such grace, truly celebrating the life of the man who meant so much to her."
At the end of the 2021 year, Raynor's horse Brave Spirit, a name that many reflected was an image of Raynor's own spirit as well, suffered many major medical issues, ultimately leading to his passing in early 2022. Despite all of the adversity, all of those who nominated Raynor commented on how strong and positive she remained through the challenging times.
Julie W. Howard perhaps summed it up the best: " Through it all, she has remained upbeat and kind and giving. Her smile is infectious and her wry sense of humor makes everyone laugh. She is truly deserving of this award as she embodies the spirit of the award."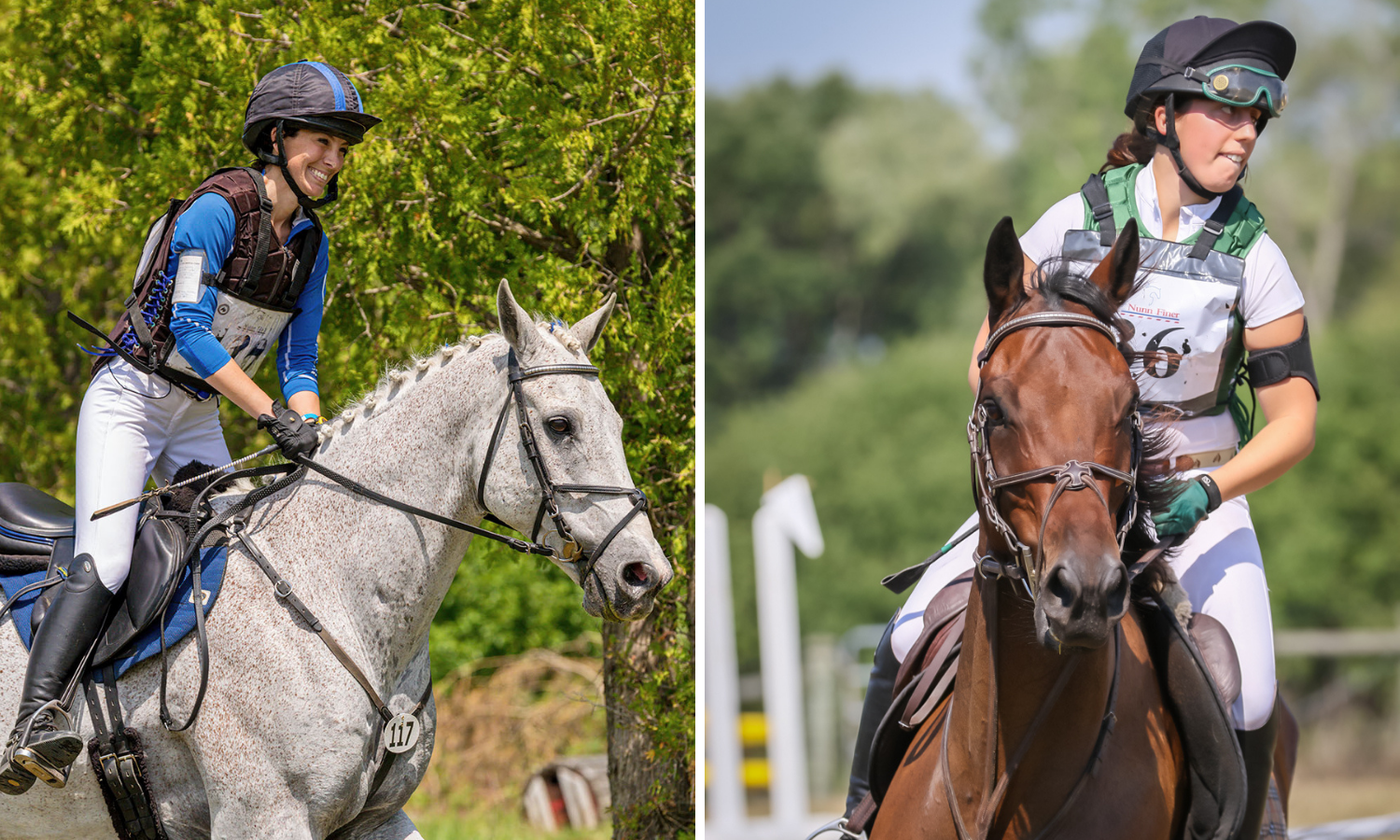 Going forward, the award will be presented at the Area I Annual Meeting each year to an active ARP member and rider who exemplifies their spirit. The recipient will have demonstrated support of their eventing community with fairness, integrity, humility, and kindness regardless of competition results and/or what life might be throwing their way. The recipient, when not competing, can be seen giving back to the sport through volunteering, cheering on friends, and generally supporting the success of others. Area I will also be accepting consideration criteria from their families.
The winner will receive $200 towards a future USEA Area I sanctioned event or USEA sponsored clinic and a commemorative prize. Nominations for recipients can be sent to adultriders@area1usea.org. Please include in your nomination email, who you are nominating and why you believe they should receive the award.
The selection committee will be composed of Suzanne Adams, (Area I Chair, Adult Rider Program Member, and adult amateur competitor), Sarah O'Sullivan (former Area I chair, eventer, and dressage rider), John Bourgoin (Area I USEA BOG representative, National Young Rider Co-Chair, instructor, and eventer), Erin Keehan (Area I supporter, event secretary at several Area events), and Amy Winnen (Adult Rider Program Coordinator, adult amateur competitor).